About
Monmouth Gymnastics Elite – National Training Center 
"Monmouth Gymnastics Elite is devoted to enhancing the self esteem of our students through a skill development program that recognizes each child's individual needs and skill level.  They establish strength, speed, coordination, flexibility, body awareness and precise timing. These characteristics are retained for a lifetime and will take our children far beyond their gymnastics training.  They will acquire the positive self image and conditioning needed to excel in many sports and future endeavors."
Monmouth Gymnastics Academy was founded by Leonid Blacher, Russian Master Gymnast, 1974 in Howell, NJ. MGA relocated to Morganville, NJ and has been here since 1979 under the same ownership since 2000 (Karen Bianchino).  As of May 2019 Monmouth Gymnastics Elite (MGE) was BORN!  Victoria Levine (Karen's daughter) has stepped in with a fresh new attitude ready to carry on the family legacy.  Victoria has a personal background as a gymnast and dancer.  She has been coaching MG Elite's Competitive USAG girls since 2010.  Here at MGE, we strive to provide a safe, calm environment for your child. We have the reputation, knowledge & expertise needed to ensure that your child has the best gymnastics experience possible!  All of our coaches are USAG Safety Certified & Back Ground Checked.  Our equipment is inspected and updated on an annual basis.
Monmouth Gymnastics Elite has coached many athletes to becoming International Elites, US National Champions, and International Medal Winners, and two gymnasts that are currently US National Team Members. Our two most noteworthy accomplishments are producing a Gold & Silver Medalist in the 2016 Rio de Janeiro Olympic Games, and a Gold Medalist at the 2018 World Championships. We are also the only facility in New Jersey to have four current International Elite gymnasts!
What does it mean to be a National Training Center?  MGE has earned this title by having multiple athletes named to the US National Team.  As National Team Members these athletes go on to compete for our country.  We are extremely proud to have these athletes who represent TEAM USA train at MGE!
OUR PROGRAMS:
We offer gymnastics instruction for boys and girls (ages 16 months to age 18) including: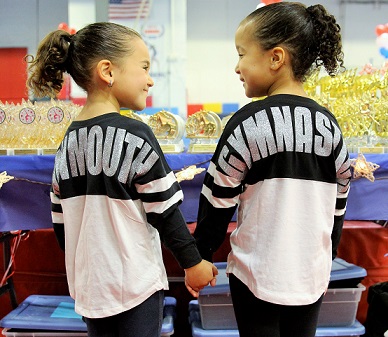 Parent & Me (15m-2 1/2 yrs)
Little Stars (Ages 3-4) Boys & Girls Mixed
Stars (Ages 5-7) Beginner
Rockets (Ages 5-7)  Intermediate
Fireworks (Ages 8 & Up) Beginner
Firecrackers (Ages 8 & Up) Intermediate
Advanced Classes
Pre-Team (ALL Ages Girls & Boys)
Special Needs
Private Lessons
Tumbling Clinics
Backhandspring Clinics
Pre-USAIGC
USAIGC (Copper, Bronze, Silver & Gold)
JOGA (Level 4, 5 & 6)
USAG Girls Levels (Level 4 – Elite)
USAG Boys
Open Play
Birthday Parties
Parent's Night Out
Summer Camp
Summer Classes